Ditto Looper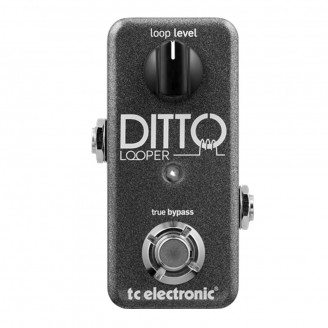 Brand:
TC Electronic
Product Code:
Looper
Reward Points:
0
Availability:
1
RM560
Ditto Looper
Looping Sense
Ditto Looper was designed from the ground up with guitarists in mind. Hey, we play too, so it's what made sense to us. We made sure Ditto Looper takes up minimal space on your board, but still has the essential 'make your guitar-heart jump' features such as True Bypass and Analog-Dry-Through making sure your tone stays uncolored.
One Knob To Rule Them All
Ditto Looper simply loops. Well. It's 'one knob' button may seem like a minimalist approach, but all the essentials are there: record, undo/redo, stop and erase are all accessed via different foot-commands that always make sense, whether you are building loops, changing from one part to the next (we're looking at you, live performers) or adding layers to a song.
Appeal To Your Inner Audiophile
If you know our products, you are used to things sounding great. We made absolutely sure this also goes for Ditto Looper, so the loops produced are in 24 bit uncompressed high quality audio. Why settle for less if you love tone, right? Right!
FEATURES
Lots–a–Looping
Ditto Looper provides 5 minutes of looping time - which is more than you'll ever need. Realistically, how many songs do you wanna have that are 10 hours long and still expect to get booked?
Dream big
Ditto Looper has an ultra-small footprint, meaning you'll always be able to fit one! It takes up almost zero space on your pedalboard, saving you precious realestate *cough* more TC pedals *cough*.
Undo/Redo
Yeah, it's great for quickly getting rid of parts you are not feeling, but we found many people actually use this to change parts during as live performance, say from verse to chorus - Ditto works great in either scenario.
A Looper To Remember
Ditto Looper stores your loops when you power down or disconnect the power plug. This means absolutely zero worries, as the music you've created stays stored and is ready to go when you need it - be it just jamming on ideas, rehearsal, live performance or studio.
Analog Dry–Through
Ditto Looper always let's your 'dry sound' pass without ever converting it to digital, keeping your original tone just that - original and purely as you intended it coming through with zero latency.
Go on, play with yourself
Can't get enough of playing with yourself? Ditto allows unlimited overdubs, so do your worst!
Loop Level
It's the only knob on there, and allows you to set the level of your loops (surprise!). This means your loops can serve as a subtle background to what you are doing or you can turn this up for a mind-blowing performance.
True Bypass
When Ditto Looper is bypassed, it's REALLY off, and has zero influence on your tone, making sure you have optimum clarity and zero loss of high-end.