DBM50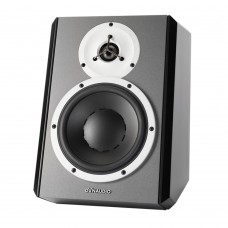 Brand:
Dynaudio
Product Code:
BM series
Reward Points:
0
Availability:
Pre-Order
RM0
DBM50 is the only choice when it comes to desktop monitoring.
From the handcrafted Dynaudio drivers to its beautiful exterior, DBM50 is specifically engineered to perfectly reproduce your desktop mix and truly represents a revolutionary new angle in desktop mixing.
From the innovative wave guide around the tweeter to the optional addition of the level controller that never compromises the allimportant level interrelationship between speakers, DBM50 is the perfect partner in situations where the only thing that counts is perfection.
Features
Front baffle tilt for perfect desktop placement
Smooth HF waveguide securing optimal near field sweet-spot
Handcrafted drivers, legendary Dynaudio craftmanship
Perfect tracking Volume tabletop remote control (optional)
117dB SPL Peak power
1" High resolution soft dome tweeter
7.5" woofer extended excursion
2 channel 50 watt RMS power amplifier
Frequency response: 46Hz to 21kHz
HF, MF and LF room filtering
HP filtering for optimal subwoofer adaption
Auto standby mode
XLR balanced and single ended RCA input connectivity
Specifications
System
Two-way Active Nearfield Monitor
Frequency Response (+/- 3 dB)
46 Hz - 21kHz
Max SPL 1m, pair (IEC Short Term)
117 dB peak
Max SPL 2m, 5.1 (IEC Short Term)
N/A
Input level for 85 dB SPL @1m (+4/-10)
80mV @ 0dB setting
Input level for max peak SPL (+4/-10)
-10dB: 4.8Vrms, 0dB: 1.5Vrms, +4dB: 1Vrms
Power consumption
Idle: 5.8 W / Max: 94 W
Amplifier power
Tweeter: 50 W / Woofer: 50 W
Resonance Frequency
39 Hz
Internal Cabinet Volume
13.9 liters
Bass Principle
Bass Reflex
Crossover Frequencies
1500 Hz
Crossover Slope
6 dB/oct
Tweeter
D-281 - 28 mm soft dome, rear chamber, magnetic fluid, 4mm aluminium front, Pure alu wire voice coil
Woofer
180 mm/7.1", One-piece thermo formed MSP cone, 75mm/3" pure aluminum wire on kapton former
Weight
7.2 kg / 15,9 lbs
Dimensions (W x H x D)
230 x 348 x 335 mm / 9.1" x 13.7" x 13.2"
Highpass filters
60Hz, 80Hz, Off
High Pass' Switch
Flat: 25Hz, 2nd order / 60Hz: 60Hz, 2nd order / 80Hz: 80Hz, 2nd order
LF' Switch
+2: +2 dB low shelf 150Hz / 0: Flat / -2: -2 dB low shelf 150Hz
MF' Switch
0: Flat / -2: -2 dB notch 450Hz Q0,7 / -4: -4 dB notch 450Hz Q0,7
HF' Switch
+1: +1 dB high shelf 1,5kHz / 0: Flat / -1: -1 dB high shelf 1,5kHz
Write a review
Your Name:
Your Review:
Note: HTML is not translated!
Rating:
Bad
Good
Enter the code in the box below: