Correct XT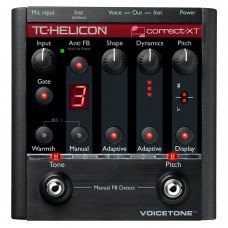 Brand:
TC Helicon
Product Code:
VoiceTone 2-Switch
Reward Points:
0
Availability:
Pre-Order
RM0
Like having a live engineer and vocal coach at your feet.
Smooth, pro vocal tone with the security of active anti-feedback is yours with Correct XT. Match that with TC-Helicon's natural auto-chromatic pitch correction, it's like having a live sound engineer and a vocal coach at every gig.
Adaptive Tone
TC-Helicon's adaptive tone technology intelligently controls Shape EQ and Dynamics (Compression & De-ess) to provide the perfect tonal balance that fits in the mix. Best of all it's easy – just set and forget. The adaptive gate can also be added to help suppress feedback and clean up noise.
Intelligent Anti-Feedback
Feedback is a reality for the contemporary vocalist. Unlike other anti-feedback technology, VoiceTone Correct XT doesn't require any pre-calibration in a quiet room before your gig – who has time for that anyways? Once again it's set and forget – protecting everyone's ears.
Auto-Chromatic Pitch Correction
The auto-chromatic pitch correction helps you sing more in tune, much like a metronome helps for playing in time. It's like singing with a singer who has perfect pitch. This lets you know when you're out of tune and you naturally decide to correct yourself, or not.
Features
Studio-grade compression, de-ess and adaptive Shape EQ to brighten and smooth vocals
Effortless auto chromatic pitch correction helps you sing in tune.
Automatic anti-feedback seeks and destroys feedback.
Can be chained to additional VoiceTone pedals.
Turn correction on and off with optional MP-75 microphone
Connects easily with other VoiceTone pedal so you can define your personal sound palette
Adaptive gate gently reduces background noise when you're not singing
Multi-band anti-feedback stays on alert for feedback and clamps it automatically
Individual controls allow precise customizing if desired
Auto chromatic pitch correction requires no key or scale
Adaptive controls after Shape and dynamic response to best suit your singing style
Pitch correction of tone shaping
Balanced XLR Output
USB connects to VoiceSupport application offering tips, tricks, and updates
Studio quality mic preamp with phantom power
Instrument Input
Write a review
Your Name:
Your Review:
Note: HTML is not translated!
Rating:
Bad
Good
Enter the code in the box below: