Corona Chorus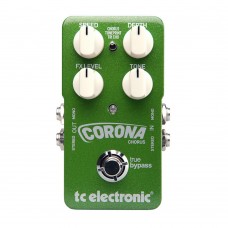 Brand:
TC Electronic
Product Code:
TONEPRINT ENABLED
Reward Points:
0
Availability:
In Stock
RM730
Choose Your Chorus
Whether you go for the music-defining SCF setting or the ultra rich Tri-Chorus, you're always ensured expansive tonal options from glassy shimmers to mind-boggling swirls of sound. In fact, we'd buy two and have 'em both on at the same time to combine the SCF sounds with the rich Tri-Chorus tones.
Chorus, Don't Bore Us
Corona Chorus has a set of tonecontrols that allow you to craft a wide variety of chorus sounds -the Speed knob lets you dial in anything from slow 80's chorusing to fast leslie-like sounds, while the Depth knob sets how intense the sound is going to be. The Tone knob allows you dial in the chorus exactly how you like it- from dark and vintage to pristine TC shimmer to a sound that really punches through the mix. Fun guaranteed!
Chorus Coolness Completed
Chorus is such a nice sound, it deserves maximum width. With stereo in- and outs, you are sure to achieve a warble as wide as your imagination.
Features
Speed
Helps you set the speed of the effect, or how fast you want the sound to rotate - subtle swirls to spinning outta control!
FX Level
Sets the intensity of the effect, but you guessed that, right? From a calm pulse to an intense shimmer. Corona Chorus actually allows you to control how intense the effect will be, making subtle settings a breeze to dial in.
Depth
This sets the range of the modulation – subtle accents to world-warblin' sounds, you'll find it all here. Just know this knob works closely with the FX Level – have some fun and experiment!
Tone
The tone knob allows you to dial in the right 'feel' for the effect - the more clockwise equals 'hi-fi' glassy shimmer and clarity, while counter clockwise yields a darker, warmer old-school vibe.
Maximum You
TonePrint pedals offer both true- or buffered bypass. It simply means that no matter what your setup or situation, TC pedals give you optimal signal integrity so the 'you' in your playing shines through with unparalleled clarity and definition.
Toggle Switch
Best and worst knob on the pedal. Best because it enables you to set it to one of two fantastic chorus sounds (SCF and Tri-Chorus) and worst because it is making you choose between the two - well, you can just play longer and jam to both! Also selects TonePrints for a world of signature effects!
TonePrint® - Signature Effects!
TonePrint means signature effects - and signature effects means truly creative tones. From classic innovators to the guys shaping the future of music, we've asked the coolest artists around to come up with their customized signature version of a TC Electronic effect - and make them available to you for free!
Write a review
Your Name:
Your Review:
Note: HTML is not translated!
Rating:
Bad
Good
Enter the code in the box below: