Combo Staccato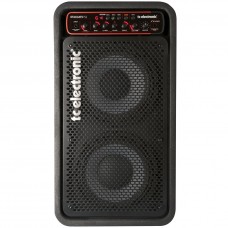 Brand:
TC Electronic
Product Code:
Bass Combo
Reward Points:
0
Availability:
Pre-Order
RM10,064
Rocking with Rocco
ComboStaccato is a bass combo that uses a custom-tuned amp made to Tower Of Power and bass legend Rocco Prestia's exact specification and ear.
It therefore offers a full-bodied tone and its ultra fast precision response enhances the percussive elements of Rocco's playing to perfection.
Rocco Rules
We don't have to tell you what a great player Rocco is. What we do have to tell you, is that he has a great ear for tone and that we have incorporated all his ideas and wishes into this amp, resulting in a great-sounding combo!
Vintage Virtues
If you need to get back to the bass tones of yesteryear in a heartbeat and without breaking the bank - this is your go-to combo. Voiced by Rocco it is powerful yet very retro in tone.
Combo Coolness
The cabinet configuration features two customized Eminence 10" drivers and a 1" tweeter all housed in a vertical 18mm hard-wearing plywood cabinet with a pull-up handle and wheels for easy transportation. Surely, Rocco has roadies, but most others will enjoy the great portability of this combo.
Features
Made by Rocco!
450 Watts
4-band Semi-parametric EQ
3 Presets
Ultimate Tone Tools
TubeTone
SpectraComp
2 x 10" Custom Eminence Drivers
1" Custom Eminence Tweeter
Chromatic Bass Tuner
Rehearsal Input / Headphone Out
First-grade DI Out
Pull-up Handle and Wheels
Write a review
Your Name:
Your Review:
Note: HTML is not translated!
Rating:
Bad
Good
Enter the code in the box below: