Combo 750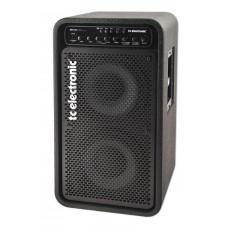 Brand:
TC Electronic
Product Code:
Bass Amp 2.0
Reward Points:
0
Availability:
Pre-Order
RM9,178
Moving Combos a Quantum Leap Forward
After we revolutionized the bass world with the original Bass Amp 2.0 concept, we decided to shrink the package down into a combo.
Compact portability and all the killer features from RH750 makes it a winning combination!
Ultimate Tone Tools
Use the 4-band semi-parametric EQ to sculpt your basic tone. Then apply SpectraComp and/or TubeTone for the finishing touch.
Traditional compressors tend to be controlled by the lower strings only, but with multi-band compression, you get even 'per string' compression.
TubeTone emulates not only a tube preamp, but also the power amp section of a classic tube amp. Shockingly convincing!
Tune Up
Why no one has ever done this before is simply beyond us. Adding an onboard chromaitic tuner makes life so much easier for everyone!
The tuner is always on, and you can check your tuning state at any point. And when you need to tune up between songs, the built-in tuner will get you back and playing in seconds. Crowds just hate to wait!
Presets
Different situations call for different tones. Be it a change of bass, a different song/style or a different venue, you need your amp to be instantly flexible and adapt to your needs.
You can store up to 3 different presets so you can handle whatever music might throw at you. Also, the optional RC4 footswitch allows you to instantly control your presets.
Features
750 Watts
4-band Semi-parametric EQ
3 Presets
2 x 10" Custom Eminence Drivers
1" Custom Eminence Tweeter
Ultimate Tone Tools
TubeTone
SpectraComp
TweeterTone
Chromatic Bass Tuner
Rehearsal Input / headphone Out
First-grade DI Out
Pull-up Handle and Wheels
Write a review
Your Name:
Your Review:
Note: HTML is not translated!
Rating:
Bad
Good
Enter the code in the box below: