NTG 8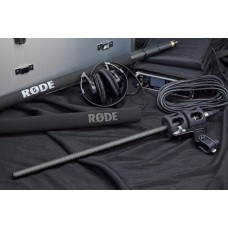 Product Code:
Shotgun Condenser Microphone
Reward Points:
0
Availability:
In Stock
RM4,600
Rugged Shotgun Condenser with Exceptional Directionality!
The Rode NTG-8 shotgun condenser microphone gives you uncompromising performance in even the toughest conditions. It's also incredibly directional, even at low frequencies - that means you're sure to capture the audio you need, without off-axis low-frequency sounds clouding your recording. The NTG-8 is very moisture-resistant, and its low handling noise and self-noise properties make it great for film and broadcast applications in the field. It's a highly sensitive mic with "you are there" sound quality and excellent RF interference rejection. A water-resistant aluminum storage cylinder, wind shield, pouch, and mic clip are included with the Rode NTG-8 shotgun condenser microphone.
Rode NTG-8 Shotgun Condenser Microphone Features:
Designed to withstand adverse environmental conditions
Very low self-noise
Very directional, even with low frequencies
Extremely low handling noise
High level of immunity to radio frequency interference
True condenser (external RF biased)
High sensitivity
Superior broadcast sound quality
Designed and manufactured in Australia
Water resistant aluminium storage cylinder, wind shield, zip pouch, and microphone clip included
Write a review
Your Name:
Your Review:
Note: HTML is not translated!
Rating:
Bad
Good
Enter the code in the box below: