NT5-S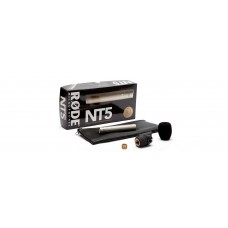 Product Code:
Small-diaphragm Single NT5 Cardioid Condenser Mic
Reward Points:
0
Availability:
In Stock
RM950
Single Rode NTD Small Diaphragm Condenser Mic
The NT5 is a pencil-type, small-diaphragm, mono condenser mic that was originally offered in matched pairs featuring sequential serial numbers so that they're close to each other all the way through manufacturing. A typical use of the NT5 would be as drum overheads or recording high-hats. We've found that they are detailed and very clear, and with just a tiny bit of compression they sound great. If you prefer the positioning flexibility afforded by a pair of small-diaphragm mics, then the NT5 is an easy choice. If you're lookng for a great-sounding, and very affordable single small-diaphragm condenser mic, the Rode NT5-S is a single NT5. Small-diaphragm condenser mics such as the NT5-S have an even and wider frequency response than large diaphragm condensers, handle higher SPLs, and can more accurately capture instruments with a pronounced high-frequency component (violins, for instance).


Rode NT5-S Specifications:
Acoustic Principle: Externally polarised single diaphragm
condenser transducer.
Capsule Size: 0.5" (13mm).
Active Electronics: JFET Impedance converter with bipolar
output buffer.
Directional Response: Cardioid.
Frequency Response: 20Hz to 20kHz.
Sensitivity: -38 dB re 1v/Pa +/- 2 dB equivalent to 12mV/Pa
where 1 Pa = 94dBSPL.
Equivalent Noise: <16 dBSPL, (A-weighted per IEC268-15).
Maximum Output: +13.9 dBu @ 1% THD into 1k_
Dynamic Range: >128 dB.
Maximum SPL: 143 dB @ 1% THD into 1k_
Signal to Noise: 78dB.
Power Requirements: 4 mA, P48 Supply (38V-52V) 2 mA,.
P24 Supply (20V-26V) The microphone operates in accordance with the above specifications to a minimum of 18V. (It will operate with some performance degradation below 18V.)
Packed Weight: 1.8kg (Mic only 100g).
Write a review
Your Name:
Your Review:
Note: HTML is not translated!
Rating:
Bad
Good
Enter the code in the box below: