HP60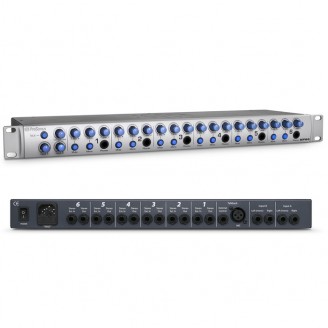 Product Code:
6-channel Headphone Amp with Independent Mix Control
Reward Points:
0
Availability:
1
RM1,623
Solves Your Headphone Problems!
The PreSonus HP60 headphone amplifier system is designed and manufactured to solve the age-old problems of nearly every recording studio. The PreSonus HP60 is loaded with six independent headphone amplifiers that feature dual stereo inputs as well as external input, with each channel allowing mixing between three stereo audio streams (mix A, mix B, and external input). Stereo output is also available on each PreSonus H60 channel to send line level headphone channel mixes to additional headphone amplifiers or monitor systems. For a truly extraordinary studio experience, try the PreSonus HP60!
PreSonus HP60 Features:
Six independent ultra-low noise, high output headphone amplifiers (150 mW per channel)
Two sets of stereo inputs (A and B) with balanced TRS connectors
Stereo external input point on each channel for "more me" with trim control
Mix control between inputs A and B
Talkback with external XLR microphone with control
Direct stereo line output on each channel