Solid State Logic UltraViolet EQ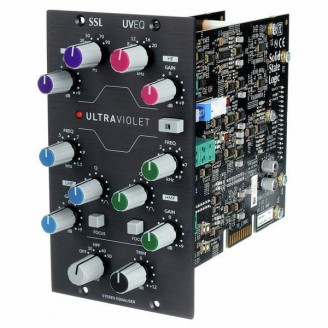 Brand:
Solid State Logic
Product Code:
Solid State Logic UltraViolet EQ 500 Series Equalizer
Reward Points:
0
Availability:
1
RM5,999
Derived from the Violet EQ section of SSL's much-admired Fusion processor, the UltraViolet gives you two bands of minimum-phase shelving equalization. This 500 Series module takes things a bit further than Fusion, however, with two additional fully parametric mid bands and a Focus control for surgical tone sculpting. You also get a 5-frequency selectable highpass filter, along with a ±12dB output trim and a bypass switch. Simply stated, the Solid State Logic UltraViolet is a stellar-sounding EQ with eminently musical curves. And here's a quick tip for an instant radio-ready sound: pair the UltraViolet with the 500 Series SSL Bus Compressor module, and every mix will sound like a finished record.
Tech Specs
Type:500 Series EQ
Number of Channels:1
High Pass Filter:Yes
Number of Bands:4
Boost/Cut Range:±9dB (per band), ±12dB (trim)
Q Type:Selectable
Freq Range High:8kHz-20kHz
Freq Range Hi-Mid:600Hz-9kHz
Freq Range Lo-Mid:100Hz-1100Hz
Freq Range Low:30Hz-90Hz
Bypass:Yes
Power Usage:±16V DC
Depth:5.25"
Width:1.5"
Manufacturer Part Number:729734X1