Mic Mechanic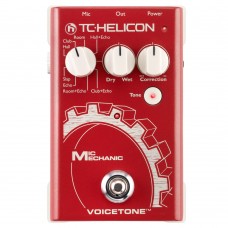 Brand:
TC Helicon
Product Code:
Reverb, Delay & Correction
Reward Points:
0
Availability:
In Stock
RM864
Dead room? Flat mic? No sound guy? Call in Mic Mechanic – a complete vocal toolbox in a compact, easy-to-use pedal.
As your personal sound engineer Mic Mechanic provides time-tested tone and effects you can take anywhere – and always sound your best.
Top quality TC-Helicon Reverbs, Delays and Pitch Correction
Adaptive Tone for the perfect mix
Simple controls, easy to use, instant effect
Rugged all-metal construction
What every singer needs
With Mic Mechanic you get tried and true combinations of the Reverbs and Delays from our renowned VoiceLive series. These are classic sounds designed to enhance and complement the natural timbre of your voice, making Mic Mechanic the direct response to the singers who say "I don't want to change my voice. I just want to sound great".
Professional Reverb, simply controlled
Reverb is the essential vocal effect, loved by all singers and used in practically every venue and recording studio in the world. Picked from the flagship VoiceLive series, the lush Reverbs in Mic Mechanic surround your voice with a great sense of space – small or large.
Delay. Delay. And Tap.
From short slapback echoes to long repeating phrases, Delay adds that special "something" to your vocal sound. Use the Tap Tempo feature and time the delays to match your music perfectly.
Perfectly pitched
Auto Chromatic Pitch Correction gently guides you towards the "true" note you're singing. When you're just a bit flat or sharp, Mic Mechanic steps in and gives you a little – or a large – nudge in the right direction. It can be transparent or used as an effect, whichever you like.
Sound your best with Adaptive Tone
Mic Mechanic automatically adjusts EQ, Compression, De-Essing and Gating – providing you with great tone all the time. Get a great vocal sound regardless of your sound system or sound tech.
Control it with your Mic
You can control Mic Mechanic effects from anywhere on stage with TC-Helicon's MP-75 Modern Performance Vocal Microphone (optional).

More Features
8 high quality Reverb and Echo presets
Separate Reverb (Room, Studio, Hall) and Delay (Tap and Slap), with combinations of both
Footswitch tapping can match echoes to song tempo
Tone button for Adaptive EQ, Compression, De-essing and Gating
Auto Chromatic Pitch Correction
Easy connection between standard mic and mixer
Phantom power always available
Low noise microphone pre-amp
Mic Control for remote on/off switching with optional TC-Helicon MP-75 mic
Compact, easy to use
Rugged all-metal construction
USB connection to VoiceSupport application offering updates, product-specific news and more
Write a review
Your Name:
Your Review:
Note: HTML is not translated!
Rating:
Bad
Good
Enter the code in the box below: